Highlights Meet Magento India 2019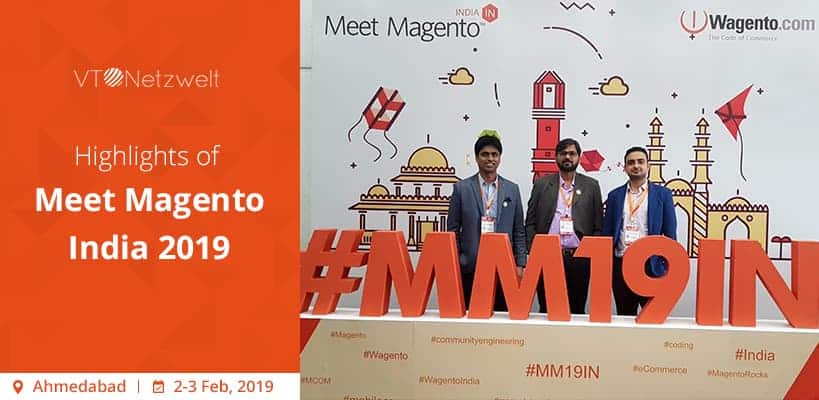 Reading Time:
2
minutes
Meet Magento India 2019 – #MM19IN
Meet Magento India 2019 was a standout amongst the most anticipated Magento event of the year. The event was composed amid second and third February in India's first Heritage city and the core of Gujarat – Ahmedabad.
With 500+ participants, 25+ tech enthusiasts and leading e-commerce brands we can say this without a doubt that Meet Magento India (#MM19IN) was an enormous event for 2019.
The event comprised of different participants including developers, designers, merchants, marketers etc. who were ravenous to pick up experiences on the most recent patterns and advancements in the realm of Magento.
It was of immense pleasure to participate in the event. Here's the glimpse of our experience at the biggest Magento event of 2019 –
Day 1
The event started with a keynote from Ramadas Prabhakar (Sr. Director, Technology at Magento) followed by the keynote from Ashish Tandon (Heads of Channels, PayPal).
Then, there were some great insights presented by Vinai Kopp (Magento Master) on Magento Caching.
The day also witnessed some great presentations on GraphQL, Magento Migration, Deployments and much more.
The day was concluded with a keynote from Saurabh Rajpal (Mobile Technical Solutions Consultant, Google) and Ben Marks (Magento Evangelist, Magento).
Day 2 – Contribution Day
This was the day participants were anticipating since long. They were altogether eager to contribute their part to the Magento community. Magento Community Engineering Team acquainted every one of the participants with Magento 2 development and gave them experiences on how they can add to the Magento 2 core.
Two of our team members – Mr. Vimal Parihar and Mr. Sarvagya Pandey share their views from the contribution day.
"It was a great experience to work with Magento core team and make our contributions to Magento 2 advancement"
As an agency, it was a very pleasurable experience to participate in the event and meet new people and learn from their experiences in eCommerce. Here is the collection of some memories we captured during the event –