VT Netzwelt is an award-winning Indo-German Magento development company. Being a Magento certified Adobe Solution Partner, we offer first-class Magento development services to our growing clientele of renowned multinational organizations.
Regardless whether you're looking to build a new Magento store from scratch, Magento extension development, Magento 2 migration or want to enhance your existing site, our long-term experience, rich toolset and vast industry know-how makes us your preferred Magento partner.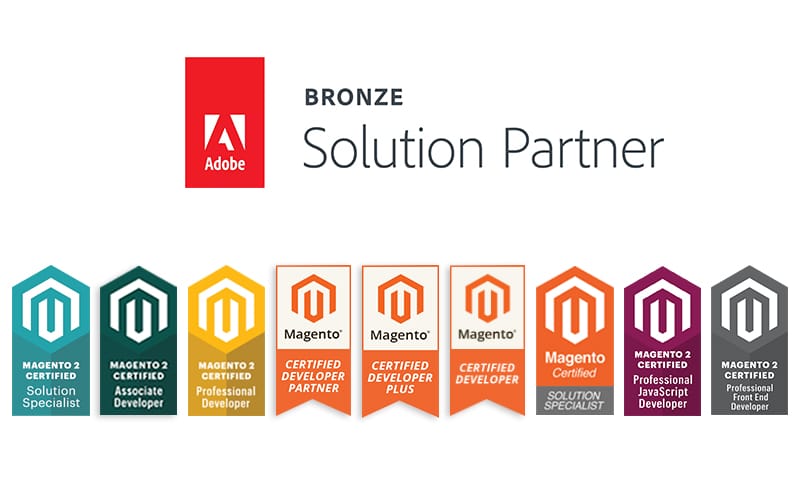 Custom Magento development
ERP/CRM integration with Magento
Our Magento experts offer Magento integration with leading ERP solutions, accounting softwares, CRMs and more which are critical for the functioning of your enterprise.
We offer both pre-built integrations and custom integration solutions tailored to your requirements. We offer integrations (but are not limited to) with leading third-party solutions including SAP, Microsoft Dynamics, Open ERP, QuickBooks, Amazon, eBay etc.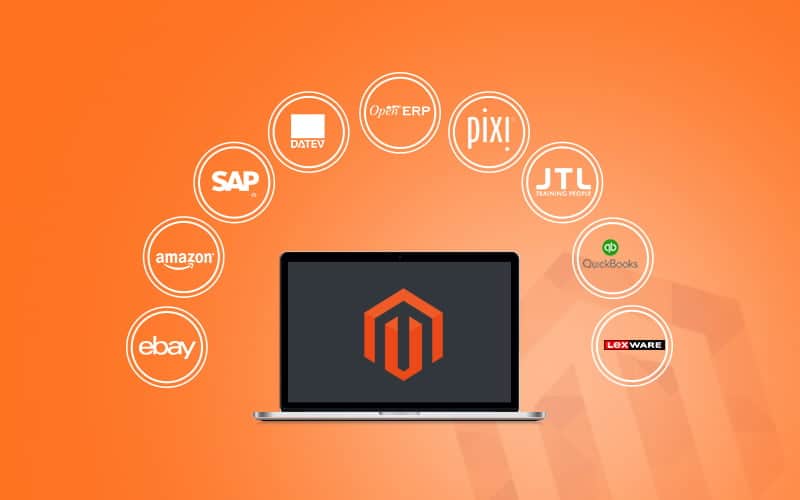 We're one of only a handful Magento development agencies worldwide that offer the skills of Magento 2 Certified Associate Developer, Magento 2 Certified Professional Front End Developer, Magento Certified Developers©, Certified Developers Plus©, Certified Solution Specialists© and Certified Front-End Developers© within one team.
When crafting a Magento solution we go far beyond merely 'satisfying' your requirements: We take ownership of your problem(s) and after sighting all the requirements, we proactively identify & iron out any deficiencies or pain points that went unnoticed.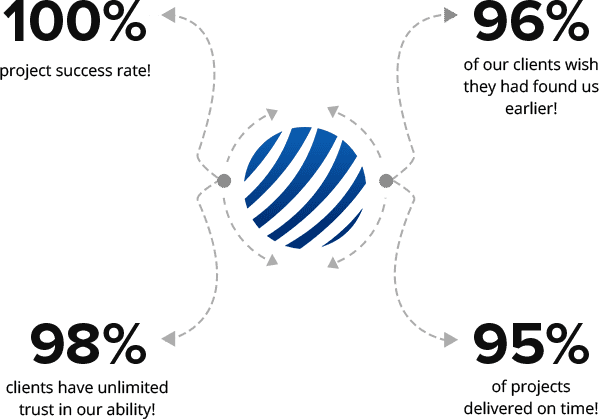 Certified technical knowledge and vast experience
Agile and iterative development processes
ISO certified management
A single point of contact ensuring transparency
Verified 5 star – client ratings
Clients love our creativity
Confidentiality assured
Quick project kick-off
0
M+
Downloads of our apps
Why we specialize in Magento development?
The Magento Community and Enterprise version is our preferred e-commerce platform as it provides an extremely powerful and flexible framework to build on. Furthermore, the free and open-source Community version, the easy upgrade path to an Enterprise version, the modular extensibility, the vast number of available extensions as well as the active development community make it the perfect candidate for any sincere online business.
Market research confirms this viewpoint as Magento continuously secures the first place with a market share of almost 30% among the top 1 million international websites.
How we ensure client satisfaction?
We put in our best endeavors to turn your dream project into a success story. All steps are taken to offer complete client satisfaction. We tender quality work which is even beyond the expectations of our customer. We fully adhere to our aim of offering the best service to the client.
Our superb Magento solutions will help you surpass all kinds of competition. Magento features which we have developed enable the clients to have a sweet taste of success (have a sneak peek at our success stories).
In order to offer you supreme quality, scalability together with outstanding performance, our Magento Developers have gone through rigorous training as well as tests. They have cleared all relevant examinations so basically they are certified by Magento. We take immense pride in providing you an amazing team of Magento 2 Certified Associate Developer, Magento 2 Certified Professional Front End Developer, Magento Certified Developers©, Magento Certified Developers Plus© and Magento Certified Solution Specialists©
Trusted by world's leading startups and enterprises since 2013







Magento development industry insights
Read more about our latest news posts and be informed
Reading Time: 3 minutes In today's fast-paced digital world, e-commerce has become an integral part of our daily lives. Whether you're running a small online store or managing a multinational corporation, the ability to accept payments seamlessly and securely is paramount.
Reading Time: 9 minutes Magento 2 heralded the end of Magento 1. Since the current version of the leading e-commerce platform differs significantly from its predecessor, Magento 2 upgrade projects cannot be compared to a classic release change and are associated with corresponding efforts.
Reading Time: 5 minutes As of June 2020, Magento will no longer offer support for old versions of its eCommerce software. Shop operators should prepare themselves and start the migration to Magento 2.
Let's turn your idea into reality
Our clients bring us the toughest challenge and we provide them with an elegant solution. That's why, our clients love us –

info@vtnetzwelt.com

+1 646 480 0248