5 Reasons to choose Magento PWA Studio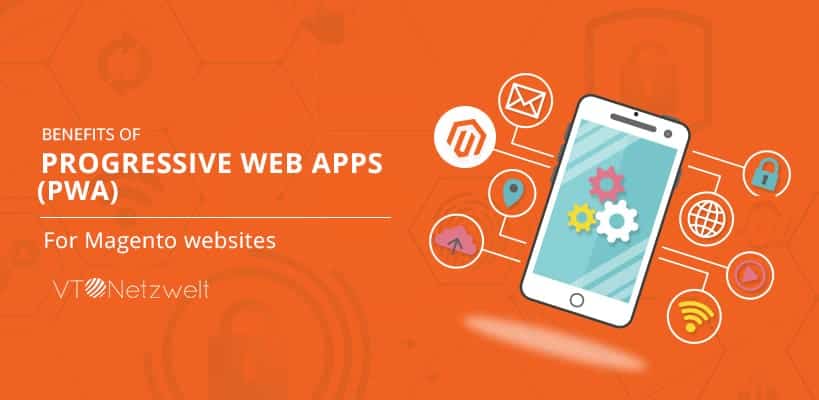 Reading Time:
5
minutes
What are progressive web apps?
Contrary to what the name suggests, PWA is not an app. Instead, Progressive Web Apps are a mixture of common web technologies, intending to be able to use a uniform application, regardless of the device and speed of the internet connection, for all purposes.
In this way, PWAs are similar in appearance and handling to native apps, but they are nothing more than souped-up websites that can also access the hardware functions of the end device due to their special architecture.
The technology that Google has been promoting since 2015 is therefore particularly interesting for mobile devices such as smartphones, because a PWA website can, for example, also send push notifications or scan barcodes via the device's camera.
Another and perhaps more significant advantage: The system structure of Progressive Web Apps is designed in such a way that website content is loaded at high speed even with a slow Internet connection (such as 2G). It is also possible to access websites offline using PWA caching.
Magento has the availability of PWA Studio for the current Magento release 2.3.4 announced. Magento PWA Studio is a software package for the creation of Progressive Web Apps (PWA). In addition to all technical components, it also contains the Venia demo theme (frontend template).
Magento shops can now be provided with a browser interface that has many app-like properties.
---
Let's have an overview of Magento PWA Studio
At Imagine 2018, Magento officially announced the Progressive Web App Studio (PWA Studio). It has been known since the Magento Live Conference London 2017 that Magento is working with the Internet giant Google to benefit from the enormous possibilities of Progressive Web Apps.
The announcement was renewed at Magento Imagine 2018, this time with somewhat more specific release plans. Accordingly, the Magento PWA Studio was released in summer 2018 via a so-called early adopter program.
According to the press release, Magento promises a comprehensive tool that combines the convenience of mobile apps and the high-performance desktop buying experience of a Magento online shop.
---
What exactly does the Magento PWA Studio bring?
With Magento PWA studio immense growth can be experienced as it offers tools to build eCommerce stores with app-like experience. If you are wondering why you should invest in Magento PWA studio, then there are several reasons like cost-effectiveness, better user experience and many more.
This uniform codebase has several advantages:
Fast performance on the mobile device
Comparable to native apps from the app store
Works offline too and faster to load.
Independent of operating systems/app stores
This is implemented using a modern application framework:
React / Redux as a JavaScript framework
CSS modules
Jest and storybook for tests
Webpack
---
Why and how is this relevant for Magento shop operators?
A real mobile boom has started in recent years. Users now spend more time on mobile devices than on the desktop. Many online retailers are already counting more mobile accesses than those from stationary devices.
To serve mobile users in the best possible way, it has so far had to operate in two ways: by providing the website in responsive technology plus the development of a native app for at least two different operating systems.
Now PWA is emerging as a new technology to replace this tedious two-pronged approach, and very quickly
As of Magento 2.3, the PWA studio can be used to build shop interfaces with the latest front-end technology. Customers can put a button on the home screen of their smartphone at the push of a button, which they can use to tap the shop. This is how the app works in the browser.
The most important properties of this web technology, which was primarily initiated by Google and is now supported by many large manufacturers such as Microsoft and Samsung, are:
Runs in common web browsers with optimal display for all screen sizes (therefore "progressive").
Network-independent, i.e. it can be used continuously online and offline.
App-like: the PWA can be started as an app from the smartphone home screen and works in full-screen mode.
App functions such as push notifications, camera access, battery status, etc. are available.
PWA combines the speed of a native app with the reach of the web. This closes the gap that existed so far between web applications and dedicated smartphone apps.
This smart combination increases engagement improves the user experience and helps with visibility. Ultimately, these are the foundations for higher sales and increased reach. Enough valid arguments to deal with these options in-depth and very soon.
---
Make the Magento shop future-proof with PWA-Studio
Magento operators can use PWA-Studio at no additional cost. The only requirement is an installation of version 2.3.0 or higher. The edition – Commerce (formerly Enterprise Edition ) or Opensource (aka Community Edition ) – doesn't matter.
PWA-Studio is a toolbox consisting of a series of software components with which Magento developers can program PWAs:
Development tools (PWA-build pack)
Library of frontend components (peregrine UI components)
Frontend theme (Venia)
Since Magento provides extensive building blocks, developers can concentrate on creating the individual user interface (frontend theme) and interactive functionality.
---
Five reasons PWAs bring the advantages of apps directly into the Magento sites
Loads very quickly
Thanks to intelligent caching, the browser reloads page content. As soon as everything is in the cache, the shop works quickly, like an app installed on the smartphone.
Works offline
The PWA technology works decoupled from the server. Shop visitors can, for example, surf in the Magento shop even when flight mode is activated or when there is a poor network connection and can, for example, view products.
Interactions such as filling out forms or even sending orders are also possible: the browser saves the user's input, and it synchronizes the data automatically after the connection to the network has been re-established.
No download necessary
A PWA mostly behaves like an app and, above all, feels like it. Nevertheless, customers and visitors do not have to download an app because the PWA is technically a "normal" web application and works directly in the browser.
High level of user engagement
A PWA can inform the user that a button can be placed on the home screen of the mobile device. This allows visitors to access the Magento shop at any time with one tap. The shop operator can use push messages to address them directly and provide them with information on a channel that is common for mobile users.
One code for all channels
If shop operators use PWA for their Magento shop, they do not need a separate app. The development of different software for web users and apps is no longer necessary – the PWA technology enables the shop to be used across platforms and maintained and developed in a central codebase. This saves costs and increases the time to market.
PWA-Studio delivers ready-made modules to equip Magento shops with a progressive web app.
---
Conclusion
There is no need to explain in detail why the e-commerce industry is particularly interested in PWAs. With Progressive Web Apps, the opportunities to bring the goods to customers are increasing enormously. Understandably, Magento wants to advance the topic with its PWA Studio.
---
Choose VT Netzwelt – Best Magento PWA Studio development company
VT Netzwelt is the leading Software development company offering Magento web development services. We have been trusted by leading enterprises and startups since 2008. Our company has successfully accomplished 450+ projects until now, and we can make your business stand out using our design and development skills.
Our expert PWA builders will help you in developing the Progressive Web app to increase user engagement and grow your revenue. We provide various PWA development services like building PWA from scratch, migrating to PWA, UI/UX design services, PWA security, and QA & Software testing.
As a Magento agency, VT Netzwelt is happy to advise and support you in developing your front end with responsive web design and PWA. Ask us!