Magento development agency vs. Magento freelancer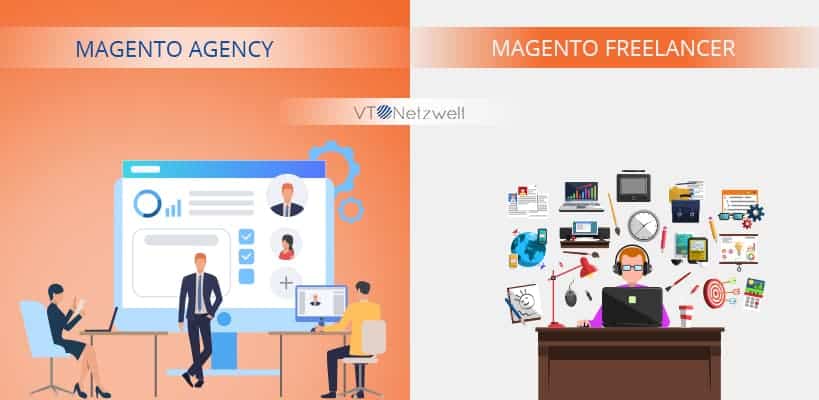 Reading Time:
6
minutes
Magento was released on March 31, 2008, and today it has successfully become the world's leading eCommerce platform. More and more eCommerce companies are looking for expert Magento developers to develop new websites, support existing websites, and migrate from Magento 1 to Magento 2. There are many Magento development companies and freelancers to choose from. It is still challenging to find the right partner having extensive expertise and experience in Magento development at a reasonable price.  
---
Is it worth assigning a more significant development team or a freelancer? 
Freelancers usually have expertise in a particular field, and dealing with them is worthwhile if they have capabilities of doing the job alone. On the other hand, choosing a development team may be a wise decision as the team comprises experts in respective subjects. 
Freelancers usually work for a lower price in comparison to a development team. However, sometimes it does not turn out to be a profitable investment. In addition, a freelancer may be flexible with you, but reliability is a factor that you will have to compromise. A freelancer can't be an expert in all fields, so you will have to seek help from someone else, too, which can arise complexities. 
---
Are you looking for a top-notch Magento development agency/ freelancer for your project?
You might be searching on Google for a reliable result from tens of thousands of results. This is not a wrong approach; in fact, 65-75% of companies do this. Sometimes, too many options end up confusing, and it becomes difficult to make a wise decision. Start with identifying your requirements and capabilities that Magento developers must-have.
You must be crystal clear with your needs before looking for a freelance developer or a Magento development agency.  
Do you want to fix a serious bug or deal with persistent serious problems? 

Do you want to develop custom features, build a website from scratch, migrate to Magento 2, or continue unfinished projects? 

Are you looking for a Magento freelance developer or a reputed Magento development agency? 

What is your budget?
When you are clear with answering the above questions, you can pursue the next step, i.e., finding a Magento developer. 
If you are dealing with a few issues which are not critical errors on your website, you can go with a freelancer. On the contrary, if the issues are major that needs to be resolved as soon as possible, it is strongly recommended that you must go with a Magento web development company for professional support. 
Besides, if you want continuous support to ensure high performance of your website, work with a well-known Magento development company that provides complete Magento solutions. 
Depending upon the size of your project, you can shift your preference to a freelancer, but in case of a large project such as developing a new Magento website from scratch, stick to a Magento development team. 
To ensure the quality of a massive project, multiple Magento programmers are required. It results in development efficiency, saving time, and money.  
Another important factor in deciding who can work with you is your budget. If money is not a big issue for you, you should freely choose a Magento development company as it is a more reliable option than choosing a Magento freelancer. 
Also, if your budget is medium, you can still find a trustworthy and proficient Magento development agency. But if you can't dig deep into your pocket and your budget is low, you can look for a Magento freelancer. Thus, you can save the budget while getting your job done with high quality. 
---
Analyze the experience and expertise of a Magento development agency/freelancer
After clearly defining your expectations, requirements, and budget, start with searching professional Magento developers. Overall, experience and professionalism seem to be an essential consideration while hiring a development team/developer. You must choose someone with at least ten years of Magento experience to complete your project. 
How to check the experience of a Magento development team? 
It is not as simple as directly asking them. You have to find out how long they have been engaged in Magento development and how many Magento development projects they have participated in during their time of experience. Also, analyze the type of problems on which they have worked before and see if the team is the right choice for deriving the best possible solution.

Ask for some suggestions related to the development of your project. An experienced Magento development company will be able to provide you with legit advice. For example, if you want to get a complex error resolved, an eminent developer will be able to help you in analyzing which parts of the function are at the default and which sections need to be customized. 

For your large projects, you can use version control tools to understand their experience. Professional Magento development companies have extensive experience in handling specific version control systems (such as GIT). 

Check the previous Magento websites and development cases of Magento developers. By doing so, you can evaluate whether they can meet your expectations. Start with analyzing front-end, back-end, and functional effects. Most of the development projects in peer websites use ready-made themes and templates. Therefore you must focus on checking the functional effects. You can see if any additional feature is there for the customers, like the speed of the site, the checkout process, and more. You can quickly understand the level of proficiency from the cases displayed on the Magento development website.
---
Find real testimonials and feedback from the previous customers
We suggest that your next step should be to ask for the real feedback from previous customers of the Magento developer/development company you want to hire. 
Sometimes, you can not get to know the whole story from the final picture of the product. Let's say the final website design and functions are perfect, but the product might not be delivered on time. 
You can refer to the post-consumer experiences by email or phone. Following are a few practical questions you can ask previous clients;
What are the projects/services for which they hire the specific Magento developers/companies?

Why did they choose this agency/developer?

How was the project management, and how effective is it running?

What do they find most impressive/disappointing with this company?

Did the project delivery was on time and on a budget?

What is the scope of improvement?

Will there be any additional costs?
Post-development support is essential, especially if your eCommerce project is large. Sometimes, after the user acceptance test (UAT), you may not find all errors in your site, but errors may occur after the site goes live. In such cases, it is best to work with a Magento development company that can provide you annual support service to help you avoid any possible problem.   
After ensuring that your selected Magento development company provided high-quality work to the former customers, you can continue with your process of hiring. 
---
Before looking for a Magento development company/freelancer, plan out a project management process
As you may know, the development process and methodology applied in the Magento project determines its success. Many things can make the Magento development process a success, but here are some of the main issues you need to focus on. 
Magento development company must provide you with a detailed development plan. The plan must depict what they will do on your website, divided into several main tasks and multiple subtasks (secondary tasks). 

Also, every step must have a specific completion time, detailed schedules, and time tables for each project, including some particular phases such as planning/preparation, website design and website development (products, admin configuration, customer accounts, payment, shipping, data integration, Search engine optimization, extended implementation), testing and UAT, as well as startup. 

You need to make sure if the Magento development company you want to work with has a dedicated tester to check all the features before offering you the website. On the other hand, be clear about how to report any issues on your website.
---
Test the communication skills before outsourcing a Magento development process
Many people overlook the importance of communication skills, but it is essential, especially when face-to-face meetings are nearly impossible. You must have a way to communicate with the Magento development team. 
For example, you have to check if they can use audio and video conferencing, chat tools such as Skype, Slack, Trello, or any special application sharing tools. 
Although English is becoming more and more popular, language can be a barrier. Make sure the Magento team of your choice has a degree of English fluency. 
---
Determine developer professionalism and ask for authentication 
Many companies want to build a Magento website, but they just look for a general "web design and development company." As a result, they find several companies with a name for website development, but none of them specialize in Magento. 
Therefore, in addition to the reputation of a website developer, you should also understand their key platforms and development skills. Identify the "real" Magento development company before making a final decision. 
Magento now offers multiple certifications for its developers and partners, such as Magento Certified Solution Specialist, Magento Certified Professional Developer, Magento Front-End Developer, and Magento Certified Developer.
It would be an advantage if Magento developers or Magento web design and development companies could demonstrate their certifications. 
---
Summary
Finding a Magento development company that meets all your needs and accepts your budget is not an easy task. However, if you follow the strategies given above, you will definitely spend less effort finding an excellent collaborator for your project.
With more than ten years of experience, VT Netzwelt has become the best-known Magento development company brand. Unlike some agencies, we have a laser focus on projects built with Magento and provide our customers with the best solutions. 
VT Netzwelt provides a wide range of Magento peripheral services, from Magento website development, Magento website design, Magento technical support, Magento extension development, Magento mobile app development, Magento migration solutions, Magento optimization, Magento integration solutions, and many more. 
Contact us now to get a free quote and consultation for your project!