End of life for Magento 1, Is your store future ready?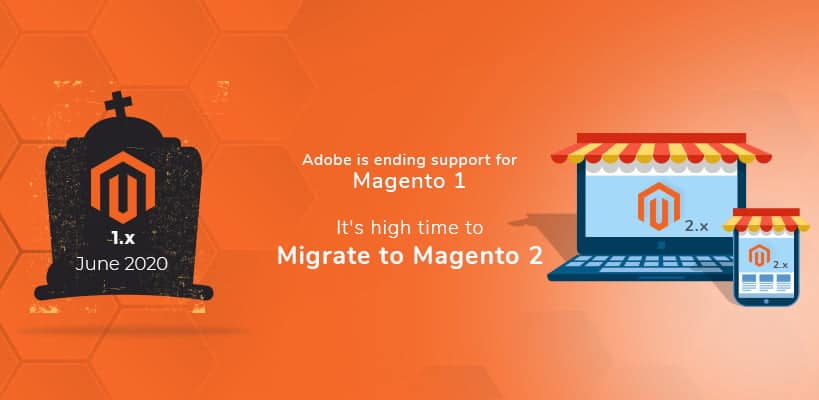 Reading Time:
5
minutes
Magento 1 is dying;
Magento has officially announced that it will stop supporting Magento 1 (both Enterprise & Community edition) by June 2020.
It means that you will not get any security patches or quality fixes for your Magento 1 store after June 2020.
It's a high time to migrate your store to Magento 2. So in this blog, I will be highlighting each and every point you require to make a decision to migrate to Magento 2.
---
Why stick to Magento? Why not move to other platforms?
Every business has unique needs. So in order to create the perfect online business store, you need an e-commerce platform that offers easy customization. This helps in maximizing sales and optimizing operations.
Magento is the most appropriate system in this case. The inbuilt extensions and plugins allow Magento designers to customize the store to be in line with your business goals. This means you can get web design of your choice and an easily accessible admin panel that offers flexibility and scalability for business growth.
According to the official Magento website, there are more than 250,000 merchants who choose Magento as their e-commerce platform.
Magento has a network of 315,000 developers and a network of 1,150+ Magento solution partners.
Some interesting stats
According to builtwith.com, the number of websites using Magento has increased by 48,000 during the period of March 2016 and February 2017.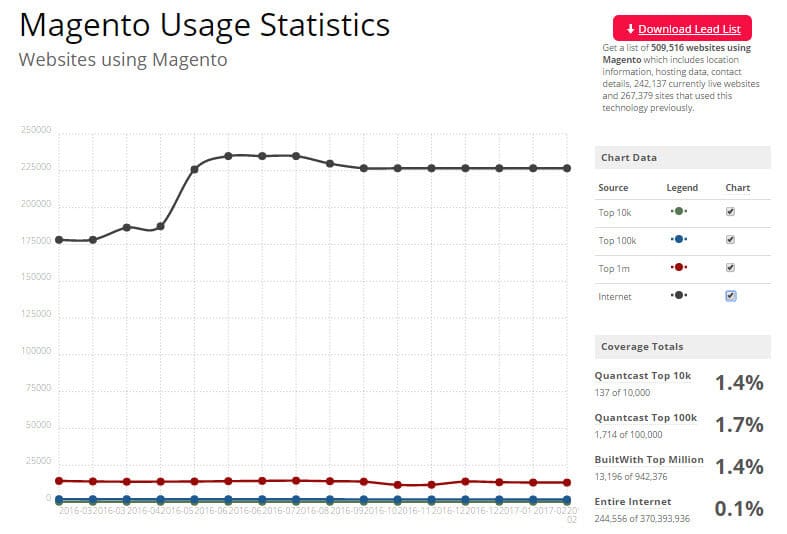 According to data from Builtwith, Magento powers 28% of websites across the web.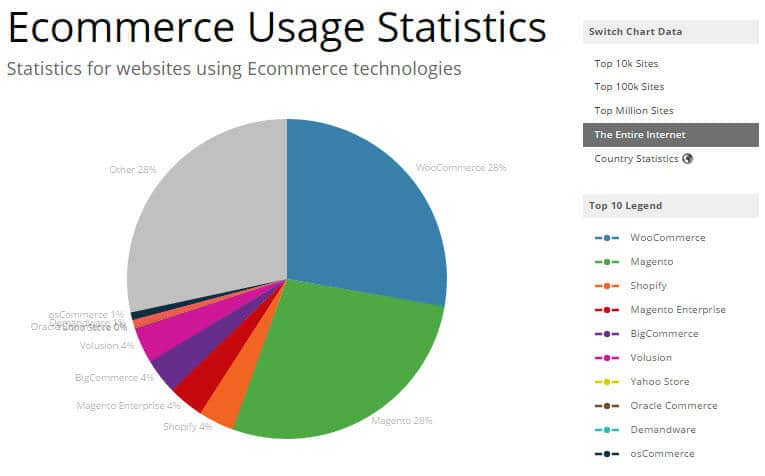 In 2016, Magento managed 101 billion dollar transactions, according to Magento website. This amount is expected to reach 224 billion dollars by 2020.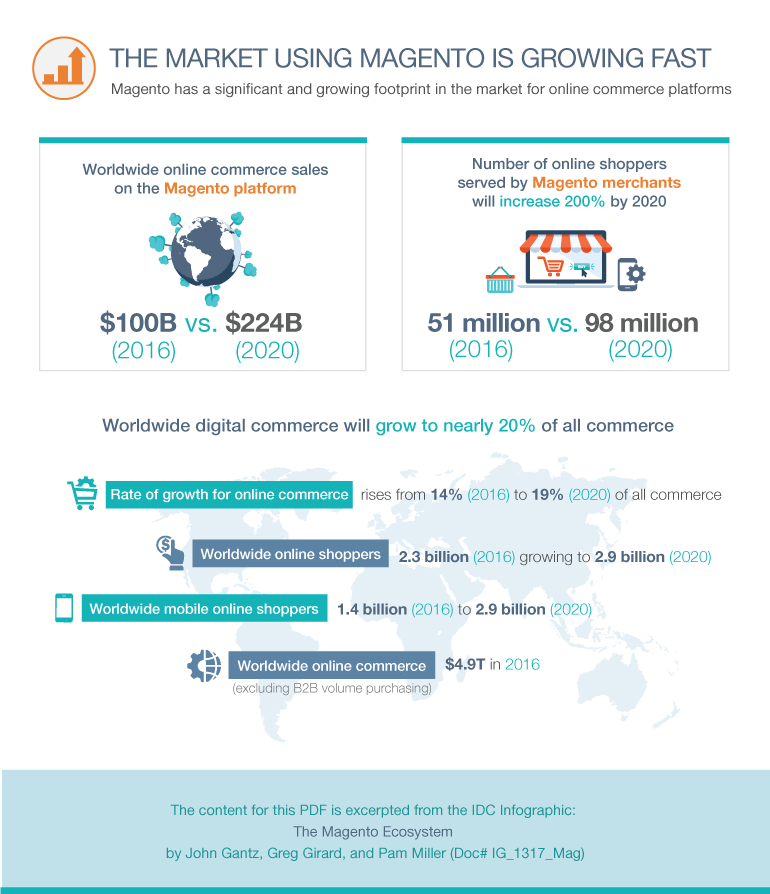 ---
Magento 2
Magento 2 offers a lot of fundamental changes to the platform thereby enhancing the overall functionality of the e-commerce platform.
The major key areas of improvement are –
Magento is aiming for bigger enterprises by aiming to consolidate Magento 2 and enhancing its functionality to suit enterprise requirements.
---
When should I upgrade to Magento 2?
What if your Magento 1.x store is running smoothly and is generating revenue for you. Although there is no rush to upgrade to Magento 2 we strongly recommend to update to Magento 2 if –
You are facing performance issues with your current Magento 1.x store

You are planning to upscale your business and looking to implement bigger modifications to your store.
Although I will still advise upgrading to Magento 2 even if you are not facing any issue with Magento 1.x as Magento 2 offers a lot of new features, opportunities that can help you serve your customer better.
---
How much pain is there to migrate to Magento 2?
I would be honest, migrating from one version to another is not an easy task and definitely not a painless process.
Transferring products, attributes, databases will not be a much pain but customized features and designs will not be migrated.
The custom features and designs need to be built from scratch on Magento 2 but you can take it as an opportunity to make improvements wherever possible.
It would involve extra time and cost but it is definitely worth the effort.
Migration process involves –
The data has to be exported, translated to the new database tables/columns or discarded as applicable.

The directory structure and internal operations of Magento have changed so much that you need to get modules rewritten to work with Magento 2.0. Same goes for themes and templates.

Basically, you will be running the old 1.x version on your live site while you move your data to the 2.x version running on a development test server and functional testing until it's ready for real-world use.
---
Development cost
The cost of developing a Magento 2 solution is 1.5 – 2 times higher than the Magento 1.x.
The major reason being that Magento 2 is quite new so there is a shortage of Magento 2 developers and their expertise come at a higher cost.
Although the exact cost of development cannot be estimated due to the higher number of customization options available with endless possibilities.
The modules available for Magento 2 are also expensive due to limited choice.
Need a rough estimate for the development cost – Request a call back from our industry experts.
---
Why choose Magento 2?
Magento 2 is search engine friendly as it offers responsive frontend design. It is no news that Google's algorithm favors mobile-friendly websites in rankings.
Magento 2 loads way faster than the standard loading time i.e. 2-3 seconds. Magento 2 offers loading of the homepage, product pages etc in less than 1.5 seconds without using the frontend cache.
Another key improvement is the checkout process that now requires only 2 steps, compared to the 5-step process in the older version. The overall experience was also improved through one-click account creation and auto-recognition of registered clients.
Intuitive admin interface
Magento 2 offers major improvements in the administrative user interface, which now allows merchants to access their online stores using responsive navigation through devices based on touch technology. Import and export of products were improved to support cross-sales and upselling.
The new Magento edition supports full page caching through the Varnish web accelerator, providing faster page loading time. It also provides new built-in responsive themes for faster store creation.
Better dependency management
Magento 2 also provides support for Composer, a PHP dependency manager, to manage dependencies when developing extensions or tweaking the code base. This new feature also helps developers in the implementation of flawless customizations to your store.
Magento 2 supports CSS3, HTML5, MySQL. It also uses JQuery instead of prototype.js.
---
Hardware requirements
Let's take a look at the system requirements. Magento 1 is running on Linux x86 and x86-64 while Magento 2 can be deployed only on the newer Linux x86-64.
Both versions require Apache or Nginx web server, with Magento 2 supporting the most recent version of the software. Magento 1 needs PHP 5.4 or 5.5 to run while Magento 2 can take advantage of the new features provided by the PHP 7.0.2 version.
Magento 1 requires MySQL 5.6 (Oracle or Percona) database while the new versions support MySQL 5.6.x. Magento 2.0 and 2.1 are able to use three master databases, providing scalability of key areas such as order management, product management, and checkout, which in turn results in better performance.
---
Conclusion
Now there is nothing left to wait. It's high time to migrate from Magento 1 to Magento 2 to avoid the last time rush situation.
Let us help you with your migration journey. We have highly capable, experienced and certified Magento developers who will help you migrate your store to Magento 2.
Don't wait!!! Request a call back from our industry experts.