OFFSHORE iOS DEVELOPMENT
Robust and scalable iOS native app development
Leveraging agile methodology and experienced iOS developers, we provide our clients with custom solutions keeping in mind the design and development guidelines related to the Apple Ecosystem – iPhone, iPad, and Apple Watch.
Our team of iOS professionals develops apps that help enterprises and startups in achieving productivity and profitability. We follow Agile development methodology and offer advanced integrations.
We utilize iOS technologies such as Swift, Objective C, SQLite database etc. to build awesome iPhone, iPad applications.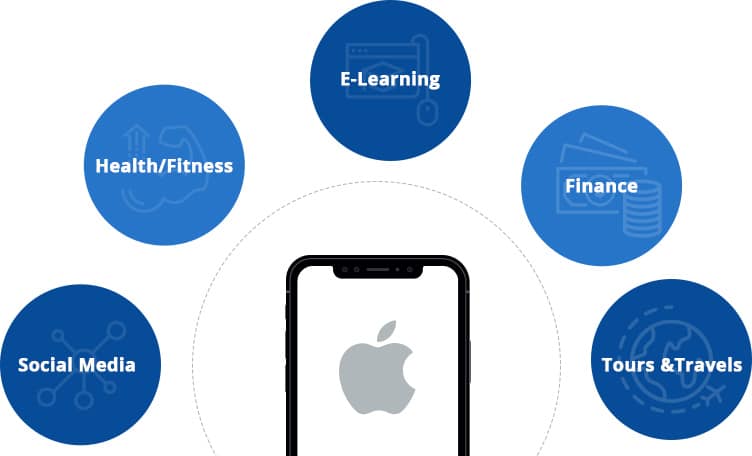 TECHNOLOGIES THAT POWER OUR iOS/iPAD APPS
M-COMMERCE
As the smartphone is becoming the biggest online selling channel, our iOS developers help you in creating a mobile commerce app which remains in sync with your eCommerce Store. We have worked on some amazing M-Commerce applications for iPhone, build on platforms like Magento, PrestaShop, OpenCart etc. Enable your business to take the competitive advantage with a wider reach to market using the iPhone app.
APPLE WATCH
The wearable technology has taken the healthcare, sports, enterprises, and many more industries by storm. At VT Netzwelt, we offer advanced custom iOS applications to utilize the potential of wearable technology. We build Apple Watch applications that offer round the clock connectivity on iOS platform.
ENTERPRISE MOBILITY SOLUTIONS
The enterprise mobility solutions offer enterprise-level applications that offer personalization and security. Our enterprise level apps ensure sophistication, seamless connectivity, availability, scalability, and security by hosting the apps on leading cloud service providers including AWS, Microsoft Azure, Google Cloud.
GEO-LOCATION
Integrating geolocation into smartphones has brought new kinds of market strategies. We build location-based iOS Applications that use the latest technologies such as beacons, geo-fencing, and geo-location. VT Netzwelt offers a wide range of iOS Applications ranging from navigation to m-commerce, location-based offers, notifications, and more.
iBEACON INTEGRATION
IoT has revolutionized the way we use our devices. It has opened new doors of innovation for cross-device connectivity. The technology involves devices like iBeacon and BLE (Bluetooth Low Energy) devices. Applications include tracking a table in a restaurant, tracking products at a mall or tracking kids in school or house with endless possibilities. The technology is a boon for blind individuals as if offers navigation opportunities easily.
API INTEGRATIONS
Everyone loves Siri. Let your iOS app users talk with Siri to ease the process of ride booking, messaging, workout, payments and more of such task with Siri Integration. Streamline your shopping experience with shopping APIs from major retailers like Amazon, eBay, Yelp, and more. Create interactive apps for IoT with different API integrations.
NATIVE iPHONE APP DEVELOPMENT PROCESS
Market research
From the idea of the application to Market Research and analyzing the requirements and initial hurdles.
Prototyping
Create a flow of your app with screen transitions and real-time touch events with mobile prototyping.
UI/UX design
Planning the UI/UX design strategy that addresses the target market demographics and is easy to learn.
App architecture
Preparing a working model of the iOS app mixed with UI/UX Design Strategy.
Development 
Developing the frontend and backend of the application based on the app architecture.
Quality assurance
Implementing Test Driven Development and Unit Testing approach for ensuring the best quality always.
FEATURED PROJECTS
We design, build and support apps for clients worldwide. We make your business stand out.
VIEW COMPLETE PORTFOLIO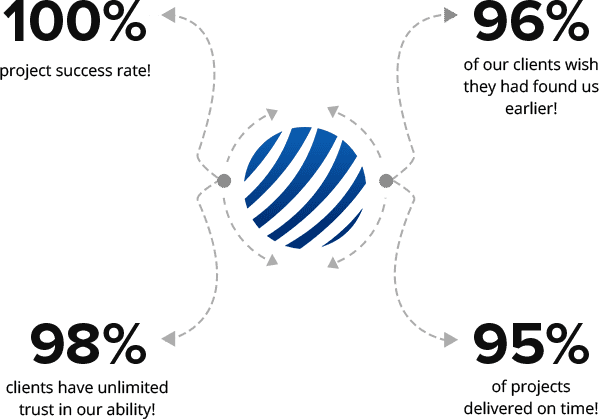 Certified technical knowledge and vast experience
Agile and iterative development processes
ISO certified management
A single point of contact ensuring transparency
Verified 5 star – client ratings
Clients love our creativity
Confidentiality assured
Quick project kick-off
18
M+
Downloads of our Apps
LATEST BLOG POSTS
Read more about our latest news posts and be informed
Trusted by world's leading startups and enterprises since 2008