Magento vs. Shopify vs. Woocommerce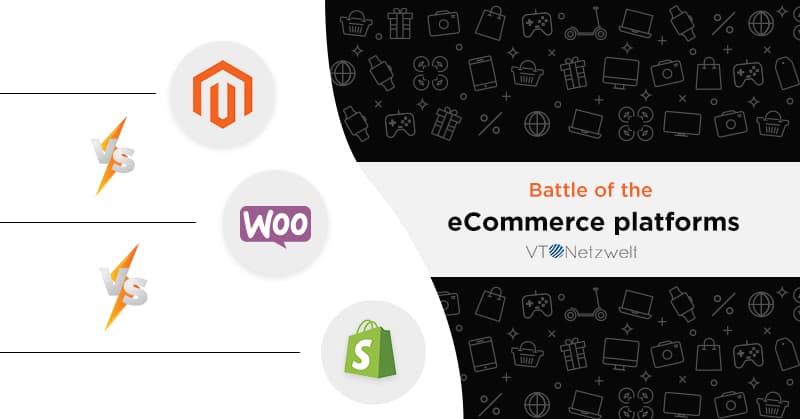 Reading Time:
7
minutes
Are you thinking of launching your eCommerce store? Well, it is definitely high time because nowadays, consumers are spending increasingly higher amounts online. Magento, Shopify, and WooCommerce are the most popular eCommerce platforms that can make it easy to build eCommerce stores for entrepreneurs having no website building experience. 
Putting together, Magento, Shopify, and WooCommerce collectively make more than 2.5M online stores. The comparison among them is very significant because these are the three of the most popular platforms for eCommerce in the market. 
However, these three platforms are very differently structured. Their suitability for user varies according to the type of project and how you want to get started with each. All three platforms have billion-dollar companies behind them, and they have variations in the strengths and weaknesses.
---
An Introduction to Magento 
Magento is an eCommerce platform exclusively also considered to be the most powerful. It is the open-source PHP-based eCommerce platform, which is the second most popular eCommerce platform. After tracking the performance of exclusive eCommerce websites, the comparison tilts in favor of Magneto. 
12% of the eCommerce market is accounted for by Magento, whereas Shopify accounts for 8%. 
Magento eCommerce platform is used by more than 250,000 merchants throughout the world. A quarter of a million merchants rely on this powerful CMS to run their online businesses.
On your web hosting, you can install open-source Magento software for free, which is also known as Community Edition. You can also opt for Magento Enterprise Edition, but you need to pay for it. 
The benefit of community edition is that you will face a considerably steeper learning curve than Shopify, but, there won't be any issue with skilled developers. 
No doubt, Magento is the most powerful eCommerce platform featured on this list, and it offers all functionalities an eCommerce store could possibly feature. Magento is arguably one of the most scalable and flexible solutions around the globe, with the support of unlimited products.  
---
An introduction to Shopify
Shopify was founded in 2004, and it holds more than 21% of the market share of eCommerce sites. Over the past few years, Shopify is growing rapidly, and the main reason for its popularity is that it offers a streamlined approach for setting an online store. 
Moreover, there is no need to worry about installing any software or finding a hosting provider. The hosting service of Shopify comprises a built-in CDN, unlimited bandwidth, and automatic site backups. Shopify also offers additional benefits like handling, maintenance, and updates of the underlying software.  
Shopify is a powerful eCommerce platform for beginners as well as experienced users and large eCommerce stores. You can categorize and upload products, manage orders, and specify attributes with Shopify. Also, you can focus on growing your store with the already available features of hosting, maintenance, and security. 
But there are a few potential downsides of this eCommerce platform like you can not edit 100% of the underlying code of your store. Also, there are payment gateway disadvantages, and you need to pay for using a payment processor other than the official Shopify Payments service. 
However, you don't have to worry as there are alternatives available like Magento and WooCommerce to overcome the issues caused by Shopify. 
---
An introduction to WooCommerce 
WooCommerce holds 22% of the market share, and it is one of the most popular ways to make an eCommerce store. WooCommerce is supported by Automattic, and it has the resources of the billion-dollar company behind it. 
WooCommerce is not an all-in-one-solution; rather, it is a WordPress plugin. Therefore, you'll need a website powered by WordPress to run it. To create a functioning store, you'll need to purchase premium extensions, but the core WooCommerce plugin is free, just like the core WordPress software.  
WooCommerce is an SEO ready, eCommerce platform. If you are looking for something more flexible than Shopify, then WooCommerce is a good option. The core perhaps lacks the power of Magento, but it is quite impressive for usability. You can adapt to WooCommerce easily as everything is controlled from within the WordPress dashboard. 
Below given comparison explains why you should choose Magento over Woocommerce and Shopify. Magento holds five stars in the strong core functionality, SEO friendliness, security, extensibility, customization, third-party add-ons, and a strong community of developers.
---
Seo friendliness – Magento vs. Shopify vs. WooCommerce
On average, the Magento platform boasts an SEO score between 95 to 98, which is brilliant from the SEO point of view. After Magento, Shopify and WooCommerce score 2nd and 3rd position in SEO friendliness. 
The key reason which Magento platform SEO score is ridiculously high is, it is extremely SEO optimized in advance. Moreover, Magento offers a myriad of SEO settings like meta tags optimization, image optimization, edit robots.txt file, canonical tags for products, etc. 
Shopify stores are SEO friendly to an extent because of image optimization, fast page load time, an SSL certification. It is an eminent platform with outstanding SEO results. 
WooCommerce has a wide range of customizations and plugins. This eCommerce platform is SEO-ready, and it offers impeccable SEO potential. As it is built on WordPress, it scores approximately 96% in SEO. 
---
Extensibility/Customization – Magento vs. Shopify vs. Woocommerce
Customization is an important concern for online businesses. Magento is a highly robust, customizable, and stable platform where you can scale-up the performance of the platform, integrate APIs, and deploy on cloud. 
Due to the wide range of free templates, themes, plugins, and unlimited customization options in the Magento marketplace, this platform is SEO friendly. Magento provides maximum flexibility and scalability to the developers. 
It is easy to adapt to WooCommerce because the customization and extensibility of the store are controlled from the WordPress dashboard. WooCommerce lacks the absolute power of Magento still achieves a better place than Shopify in terms of extensibility and customization. 
Unlike Magento and WooCommerce, there is a major disadvantage with Shopify i.e. you can't have access to the underlying software, which could cause issues. Shopify comes with lots of themes and customization options for the site's design. Although there is no need to edit any line of code, if required, developers can make custom tweaks in CSS and HTML directly. 
---
Security – Magento vs. Shopify vs. Woocommerce
The security of the eCommerce platform is a must, and no one would like to compromise at any cost. Shopify is considered to be one of the most secure eCommerce platforms, according to a leading consultancy agency. It is the safest eCommerce platform 
The security features of the latest Magento version are efficacious, and the performance rendering ability is also commendable. Effective up-gradation and security changes are made in the new Magento 2.3.4 version. Enhancement in library support, password encryption, two-factor authentication, IP whitelisting cross-site scripting, and checkout Recaptcha are the new security features that boast top of the line performance. 
WooCommerce platforms merchants witness human errors and severe vulnerabilities. However, the bugs can be rectified by giving proper attention during the initial stage of errors. At various prominent platforms, Shopify scores five stars, Magento scores four stars, and WooCommerce scores only two stars on the basis of security features. 
---
Third-party Add-ons – Magento vs. Shopify vs. WooCommerce 
Shopify has a host of add-on features that helps in the growth of the store. With the variety of apps and add-ons like pop-ups, coupons, email integration, delivery tracking, and traffic boosters, you can fine-tune your selling process. 
WooCommerce also offers paid add-ons such as SEO, Stripe, and PayPal. For the maximum success of your store, you can invest in these add-ons. As your eCommerce store grows, you need to budget for addons and plugins to improve store functionality, traffic, marketing, and shipment flows to make selling easier and effective. 
Magento is expensive of three platforms when we talk about the features of third-party addons. The development, hosting, plugins or addons can range up to $500 plus a licensing fee for large enterprises. However, it is worth the budget for larger enterprises as it is a leading eCommerce platform. Also, Magento offers a 30-day trial in which you can test their performance before digging deep into the pocket.  
---
Platform comparison – Magento vs. Shopify vs. WooCommerce
Shopify
Magento
WooCommerce
Launched in 2009
Launched in 2008
Launched in 2011
500,000+ Users
250,000+ Users
2,000,000+ Users
Shopify is easy to use, affordable, and growing massively.
Magento 2 is a much-improved version with an enhanced technology stack for developers.
It is a good platform for simple projects.
Leading brands are, Budweiser, Tesla.
Coca-Cola, Ford, Nike, Olympus.
Spectator, shop, the wall street journal, men's health.
Advantages

Ecommerce first
Easy to use and navigate for beginners
Easy catalog management

Advantages

B2B eCommerce
Flexibility
Multiple editions
Scalability
Development talent
Core functionality catalog management
Order management
Integrations

Advantages

Much better CMS capabilities
Full control of code base for customizations
Massive plugin options of almost 50,000
No transaction fees
Massive open source community contributing to progress
Simpler platform to learn

Enterprise/SMB
Enterprise/SMB

Enterprise focused
Open-source
Cloud edition PaaS

Enterprise/SMB
---
Why choose Magento for your eCommerce platform?
1% of the Internet is powered by Magneto, i.e., 1% of more than 1.5 billion websites use Magento already. 

It is impressive that the US-based Magneto websites contribute 11% of the websites using Magento worldwide. 

According to W3Techs, a known CMS is used by about 54% of all websites out of which Magento is used on 1.9% of sites running CMS.  

The second most popular eCommerce platform is Magento, and it accounts for 12% of the eCommerce market. 

Over 250,000 merchants rely upon Magento to run their online business. 

Between March 2017 and August 2018, the number of Magento sites has nearly doubled. 

Magento has a share of 16% among the top 10,000 eCommerce stores. 

The top 1K list of US and Canadian online retailers comprise 20% Magento users, which makes it the most popular eCommerce CMS in the region. 

For four years in a row, #1 spot is held by Magento on the internet retailer 1000 list. 

Magento is #1, with 42 out of 300 internet retailer B2B eCommerce. 

Many top names like Land Rover, Bulgari, Pepe jeans, Omega watches, Ford, Christian Louboutin, experience regular heavy traffic using Magento. 

Gross merchandise over the worth of $155 billion is handled by Magento websites. 

Worldwide sales via Magento eCommerce platform is expected to grow to $224 billion by 2020. 

 According to the Magento statistics, between 2016 and 2020, an increase of 200% is expected in the number of online shoppers served by Magneto. 

Merchants using Magento grow three times faster on average. If you choose the omnichannel solutions offered by the Magento platform, much higher gains can be obtained.  

Based on Magento statistics, investment payback/time-to-value is 5.2 months approximately. It means that in less than half a year, you can recover your investment in Magento. 

More than 4000 extensions available for Magento and Magento collectively. 

Thousands of templates and themes are offered by Magento. 

For wide public use, Magento has been around since March 2008. 

There are more than 200,000 Magento developers and over 1300 partners worldwide.
---
Choose VT Netzwelt – Your reliable Magento web development partner 
The above comparison is strong enough to help you make a decision in favor of Magento. However, it is not easy to find a credible Magento development company. For the success of your project, you will need an excellent collaborator who can meet your expectations. 
VT Netzwelt is a trustworthy brand working in the field for more than ten years.  
Our certified developers have a success rate of 100%, due to which we have built trust among our clients. We provide a range of Magento services like –
Magento web development
We help our clients in transforming their old website into a fresh, modern, and responsive one. We understand the needs of the website users, according to which we follow a proper custom Magento development process. 
Magento 1 to Magento 2 migration
Magento 1.x versions are near the end of their life. After June 1, 2020, only Magento 2 versions will be supported, so it is a high time to migrate to Magento 2. Our eminent developers are dedicated to the Magento Migration campaign, which aims to smooth migration of Magento 1 to Magento 2. 
Magento extension development
For any Magento development project, Magento extension development is the highest priority. Being a Magento certified company, we fulfill the demand for Magento customization for extensions.